DC6000T
DC6000T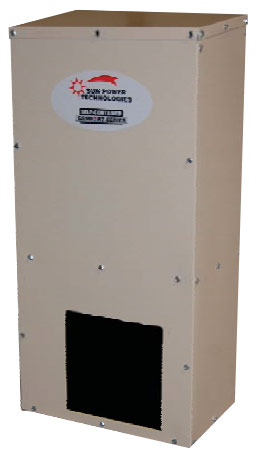 Self Contained, Air Conditioner Series
48 Volt DC / 24 Volt DC Option
The DC Comfort T Series is designed for the telecommunication enclosure for both on and off grid applications. The system can be configured with solar, wind, hydro or grid tie input power options. The heart of the DC Comfort T Series is the hermetically sealed brushless DC compressor (BLDC). This component allows the system to perform very efficiently while delivering maximum cooling capacity and minimal current draw. The system is 100% DC powered, eliminating the need for an inverter.
Thermostat controls are standard with the DC Comfort T Series, but the system can also be configured to operate with a lead lag controller when redundancy is required.
---
Detailed Specifications
Maximum Cooling Capacity: 6,000 BTU
Size – Inches: 9L x 14.5W x 35H
Size – mm: 229L x 368W x 762H
Input Voltage: 48 VDC
Power Consumption: 610 Watts
DC 6000 Weight: 71 lbs / 32 kg
Refrigerant: R134A
Low Voltage Protection: Yes
Controls: Thermostat Standard
Coating: Powder Coated or Galvanized Steel Standard
---
Built-in Reliability
High and low pressure switches with lockout relay protect refrigerant circuit.
High pressure switch with lockout relay and frost sensor protect refrigerant circuit.
Compressor time delay prevents rapid cycling of the compressor.
Ease of Installation
Factory installed disconnect.
Built-in mounting holes.
Vandal Resistant
All mounting holes are inside the ECU.
Powder coated finish for long term durability
Rugged Construction
Copper tube, aluminum fin evaporator and condenser coils.
High efficiency compressor.
Neutral tan finish
Ease of Service
Simple access to all components.
---
Specifications subject to change without notice.